Piano Lessons, Voice Lessons, and Summer programs for kids
---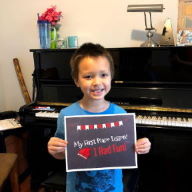 Online Lessons are available via Zoom (preferred), Skype or Facetime.
Piano Lessons are for ages 6 and up and designed to meet the specific needs and goals of each student. This includes a balance of theory, sight-reading, ear training and repertoire appropriate to the student's level of proficiency. Please note: Your tuition includes ALL core music as needed each semester. Read more about piano lessons and see what's bringing students back smiling!
"Barbara is a wonderful teacher. She is knowledgeable and thorough, conveying her love of music while making lesson time fun. She is very patient, always imparting encouragement and enthusiasm. She makes you want to sit and play!" - Linda B.
Voice Lessons are for ages 8 and up and are designed to strengthen the voice, refine quality, and improve range as well as ability to perform. Read more about voice lessons for information on the journey of becoming a healthier, more confident singer!
"Amazing vocal coach! My daughter received vocal lessons from Barbara for only a couple of months. Barbara brought out so much vocal ability in my daughter in a such a short time." - Yvonne C.
Summer Lessons are a great exposure to music without the committment to the academic school year. A perfect time to try things out. What's in store is sure to leave your kids smiling and sparking that music fever! Read more about Summer Lessons and register today!
Barbara Githens is a member of the following organizations -
---