---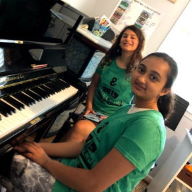 Music Instruction
Lessons are designed to meet the specific needs and goals of each student. This includes a balance of theory, sight-reading, ear training and repertoire appropriate to the student's level of proficiency. Please note: your tuition includes ALL core music, as needed each semester.
Please note: *Yearly tuition includes a reserved spot in the studio. It also includes, but is not limited to, core music as needed each semester, group lesson kickoffs, performance opportunities, and holiday camp. Quarterly group lessons are a free bonus!. When students need to miss their scheduled lesson, you may request an online lesson or a recorded video lesson. The monthly payment does not change regardless of the actual number of lessons per month. Heart and Soul Music Studio's academic year runs September thru May.
Please contact me regarding availability and lesson pricing.
"My son isn't always easy to work with but Miss Barbara was able to find creative ways to help him through. He learned so much in the time he was able to spend with Miss Barbara. She worked with him at his own pace, he and I both appreciated that! She has such a great personality and even temperament, lessons were always pleasant." - Darci F.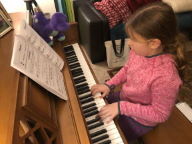 Online Lessons
Online Lessons are available via Zoom (preferred), Skype or Facetime. These lessons are for ages 7 and up. Scheduling is on central time and space is limited.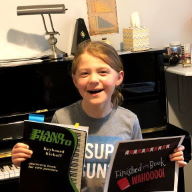 Private Piano Lessons
45-minute lessons are for ages 6 years old and up. As a base curriculum we teach "Piano Pronto" series for all traditional and adult students. Piano study is supplemented to include classical, contemporary, jazz, and popular selections. Tooled with theory, technique, and other essential piano fundamentals, students are encouraged to play music they love!
Parents are involved in the learning process as this is a journey that includes the 3-way triangle of parent, teacher, and student. A weekly assignment might include theory, challenges and suggestions for practice.
"Barbara is such a talented lady. I took voice lessons from her, and I have improved so much since then! The progress is noticeable almost immediately, and she knows how to have fun." - Angela F.
Private Voice Lessons
45-minute lessons are for ages 8 years old and up. Lessons are geared towards the music you like to sing.
Expect to learn more about vocal health, performance readiness, music theory, rhythm, sight-reading, composition, and knowledge of music history. Why are these important? My goal as your voice teacher is to help you develop an appreciation for music, hone your skills, and have the ability to reach your potential. By developing the "whole" musician and helping you to refine skills, you will become a better musician and able to independently handle auditions, performances, and anything you set your mind to do.
"Barbara is an absolutely amazing instructor. I took her for voice lessons for a little less than year and she provides and experience that will draw you back. She is always happy and cheerful and after a stressful week you get to unleash with singing and a very positive person. Her lessons have given me more confidence in my singing and has helped to open up my personality." - Jameelah A.